Our Mission
TurnStyle was created by writers for writers. Writing is a glorious journey, yet it's also a rough and solitary road, filled with blocks and detours. Once the manuscript is finished, the publishing industry is a maze. No wonder writers often feel alone in the dark. TurnStyle offers what writers need most – friendly guidance and insider knowledge. Our service is highly personalized to help each individual grow as a writer, then publish and find readers. Ask us!

Our Founders
Mary Buckner
Founder
Senior Writer/Editor
Mary is a professional editor and copywriter, as well as the author of four critically acclaimed novels: Hyperthought (Penguin, 2003), The Coin Giver (Penguin/2004), War Surf (Penguin, 2005), and Watermind (Macmillan, 2008). Her fifth novel, The Gravity Pilot, has recently been released and is available in bookstores now. Her work has won national awards and been published in five languages. Barnes and Nobel ranked Watermind in the Top Ten in its category for 2009. Other publishing credits include short stories, poems, creative nonfiction, magazine features, and content for many websites.
Mary graduated with English Honors from the University of Memphis, studied writing at Harvard University, then earned her Master's in Creative Writing at Boston University. She has served as marketing vice president for a nationwide financial firm, and as creative director for three advertising agencies. Her commercial writing has earned professional awards, including Addies and Golden Quills. She has attended the Kenyon Writers Workshop, has taught numerous fiction classes, and has been a guest lecturer in the science writing program at UT/Knoxville and at the Writer's Loft at MTSU. She participates in three writing critique groups, including the Nashville Writers Alliance.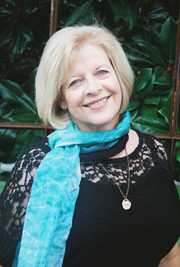 Kathy Rhodes
Founder
Senior Writer/Editor
Kathy is author of Remember the Dragonflies: A Memoir of Grief and Healing (2013) and Pink Butterbeans: Stories from the heart of a Southern woman (2005). Her essay, "An Open Letter," appeared in The Best Creative Nonfiction, Vol. 3 (W.W. Norton, 2009) and was singled out for a review in The New Yorker. Her essay "The Wedding Hankie" was included in Chocolate for a Woman's Soul II (Simon & Schuster, 2003). Other publishing credits include magazine and newspaper articles, poems, creative nonfiction, and website content.

For eight years Kathy was publisher/editor of the e-zine Muscadine Lines: A Southern Journal, ISSN 1554-8449. MLASJ published the works of 361 writers in 38 states and ten countries, including Pushcart winners, nationally known journalists, university professors, and those published for the first time. The journal also published an excerpt from the second novel of the late Doug Marlette. Kathy was editor of Muscadine Lines: A Southern Anthology (2006), a print collection of stories and poems of 28 writers published in the online journal during its first year.  
On a local level, Kathy served as co-editor of Gathering: Writers of Williamson County. The book is a collection of fiction and creative nonfiction of 31 authors associated with the former Williamson County Council for the Written Word as members or Hall of Fame award winners. Some of the writers were previously unpublished and some were famously published, such as Robert Hicks, Tom T. Hall, and Madison Smartt Bell.

Kathy teaches creative nonfiction workshops and has presented at regional and state conferences, such as the Alabama Writers Conference, the Southern Literary Festival, and the Writers Loft. She was director of Creative Nonfiction at the Crossroads in Clarksdale, Mississippi, in 2012 and co-director of the national Oxford Creative Nonfiction Conference in Oxford, Mississippi, in 2010 and 2013. 
A former English teacher, Kathy earned a BA in English and Education at Delta State University, where she was a President's List scholar and winner of the Annie Caulfield Winston Writing Award, and then did graduate studies at the University of Memphis. She has served on the board of the former Tennessee Writers Alliance and as president of her county's literary organization, and she has participated in the same writing critique group for eleven years.

For fifteen years Kathy has served writers on a local, state, national, and international level.